What are the most hidden and less known beaches in Malaga? Because you will have to get up at 7 am in the middle of August to get a spot on the beach and have hundreds of people around you with hardly any space to go to the shore when you could have a paradisiacal beach all to yourself.
From Cambara we want you to enjoy, as well as our dishes, an exceptional day at the beach in a unique place, without anything or anyone can affect you, just you and the sea. That is why we have compiled this list with the best beaches and hidden coves in the province. Grab sunscreen and a towel and let's get started!
Cala del Pino, Nerja
The Cala del Pino is a small cove of fine sand where we can find two beaches separated by rocks, but do not worry because they can be crossed on foot without any problem. However, access is difficult, so we recommend that you wear comfortable shoes.
It is characterized by the beautiful fauna and vegetation that surrounds it, it is ideal for those who practice nudism and for those who like to dive because its waters are protected and you can find all kinds of fish that are not in any beach in the province.
Torre del Pino Cove, Nerja
Without leaving Nerja is the Cala Torre del Pino, like the previous one has a difficult access and is perfect for diving thanks to its marine wealth. The good thing is that it has parking very close so the walk to the cove is very short. But beware that the road is a slope!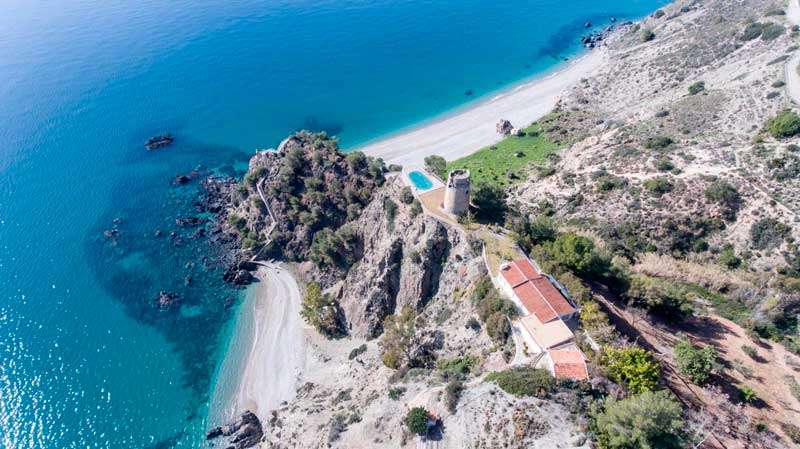 It is so called because it is only 300 meters from the Torre del Pino, a 12-meter building that was used to spot pirate ships in the sixteenth century.
Las Viborillas Beach, Benalmádena
In this beach of only 100 meters long, we can find different coves that are characterized by being guarded by an impressive vegetation that make it one of the most beautiful beaches in Malaga .
It is perfect for those looking to escape the stress of the city and relax in a small oasis of peace.
Playa Chica, Torrox
As its name indicates, it is one of the smallest dark sand beaches in the province, only 50 meters long. The good thing is that, unlike the previous ones, it has showers, a promenade and easy access. The highlight of this beach is its imposing lighthouse, so it is very easy to find.
El Cañuelo Cove, Nerja
It is surrounded by the fauna of the Natural Park of the Cliffs of Maro-Cerro Gordo about 20 minutes drive from the center of town. It is a sand and gravel beach with difficult access where its crystalline waters safeguard endangered species such as the orange coral.